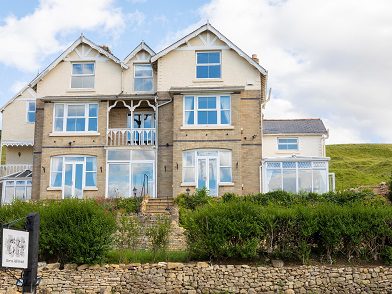 Cleeve Hill Hotel, near Cheltenham, has been placed up for sale off a guide price of £1.1m.
The guest house which is located along the 'Cotswold Way trail' features 13 rooms, a commercial kitchen, and a bespoke breakfast bar.
In the past number of years the hotel has been subject to a number of upgrades including the addition of a new extension to the rear of the building and ongoing refurbishment work throughout.
It is also said the building benefits from an "ideal elevated position" within the region and has "panoramic views of the Malvern Hills and surrounding local countryside".
Richard Thomas, business agent at Christie and Co's Hotels, who is handling the sale, said: "Cleeve Hill Hotel is a fantastic investment opportunity for an experienced hotelier and those looking for a change of lifestyle.
"The views on offer are truly idyllic and with the commercial and cultural hub of Cheltenham just moments away, and the world-famous Cotswold Way running right behind, there is plenty of demand for quality accommodation in the area."
He added: "There are plenty of opportunities for the new owner to grow trade, utilising the high foot fall from the famous Cotswold Way footpath, used by over 1,000,000 people every year, or the Food and Beverage offerings within the Hotel. We expect the potential Cleeve Hill Hotel will appeal to a range of speculative buyers."